Invention of the Cable Cam – Jim Rodnunsky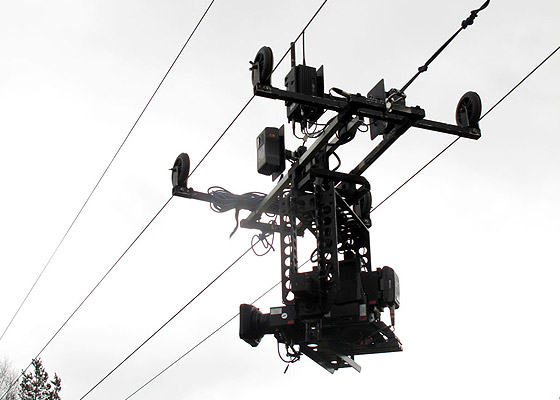 When Jim Rodnunsky strung 1400 feet of steel cable between rocks at either end of Sudan Couloir at Blackcomb Mountain in Canada, he was hoping to capture footage of his ski simulator in action to use as a teaching tool. What he had prototyped was the CableCam, a camera with a series of mechanisms to take stable shots at speed, rigged with ropes, pulleys, and now computer controlled winches to move the camera in three dimensions.
It's hard not to draw comparisons between the CableCam's engineering and that of the chair lifts that carried Rodnunsky up mountains while a professional freestyle skier. The first attempt in 1989 suspended an aluminum basket from the steel cable, in which Rodnunksy laid facedown, feet first down the cable, reaching speeds of 50 mph and a height of 80 feet above ground. Just two years later, Steven Spielberg used the invention in "Hook," and in 1994, Rodnunsky and his partner went to Lillehammer, Norway to film the winter Olympics. One-axis and hydraulically controlled, the original system had a 2,000-pound man-dolly, with one person driving and the other filming from it. Norwegian locals would line up at the end of the day to take 60-70 mph rides on the CableCam, what he called an "e-ticket ride" in a 2008 article in the LA Times. The sports world picked up on the possibilities for video game-like shots and the trademarked technology, CableCam now has contracts with FOX Sports, CBS, NBC, and NFL networks.
Rodnunsky died after a long battle with brain cancer on June 10 at the age of 54.