Anton Ginzburg, At the Back of the North Wind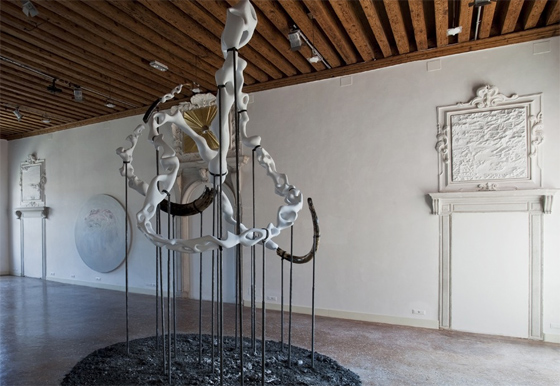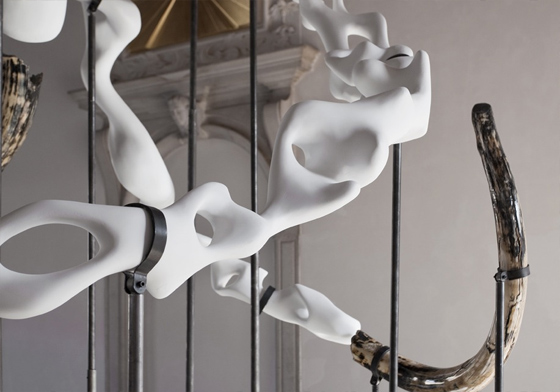 Situ Studio assisted the artist Anton Ginzburg in the fabrication of several sculptural components comprising his solo show entitled At the Back of the North Wind, currently on view at the 2011 Venice Biennale.
A major film installation, the central narrative force for the exhibition, serves as a poetic and evocative record of an expedition to "map the void" and search for the mythological land of Hyperborea. The exhibition also includes photographs and paintings, as well as eight relief sculptures–five of which represent the terrain of important sites for the project, abstracted and modified from maps and geographical data.
One of the main elements in the show is a sculpture that stands over 14 feet tall in the main hall of the Palazzo Bollani. 3D micro-CT scans of human bone previously used in a Situ Studio research were re-purposed, modified, and juxtaposed with actual fragments of mammoth tusks to create the sinuous Ashnest. The core's high density foam was milled on a 4-axis CNC router and reinforced by internal steel pins for strength and precise assembly. The painted foam segments are supported on metal posts that rise out of a gravel, ash and tar pit.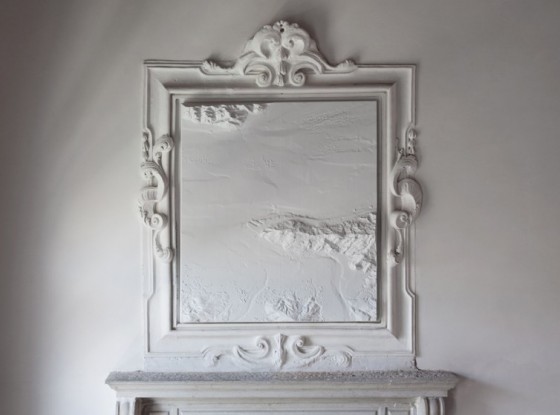 Anton Ginzburg
At the Back of the North Wind, 2011
installation photos by Giovanna Silva