45 Park Lane Façade Art Panels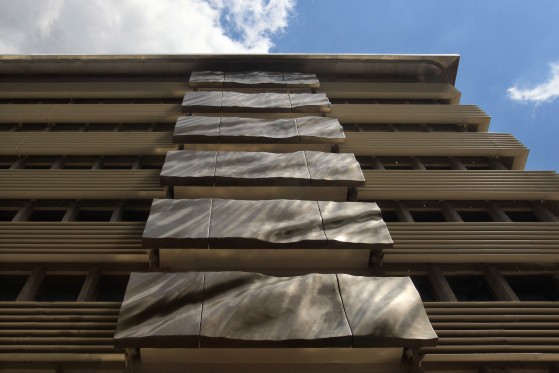 Situ Studio collaborated with The Office of Thierry W. Despont on façade panels for 45 Park Lane, Dorchester Collection's ninth hotel. Located in Mayfair, west London, the nine-floor luxury hotel faces Hyde Park with panoramic views across London.
The undulating metallic panels mounted to the balconies overlooking Hyde Park create a rippled metallic surface which flows from the top of the building to its base, reflecting sunlight and embedding lighting across the façade. Situ Studio worked with OTD to develop the geometry, materials and fabrication system for the 24 unique panels. The CNC-milled foam was coated in a polyurethane resin hardcoat and finished in a custom LuminOre Nickle/Silver alloy to create the metallic effect without the weight of solid metal or the costs associated with repoussé. Working with the architects, project engineers and LuminOre to develop the custom panel and mounting system within the target budget, Situ Studio provided design development, fabrication consultation and construction administration services. The hotel will open in September of 2011.
More information about the project is available on on our website.