Maker Milan

In developing the Maker Space and now Design Lab projects for the NY Hall of Science, we've tuned into the worldwide Maker Movement.
On a recent trip to Milan, it was no surprised to find a couple Maker celebrations during the annual design fair.  The first discovery was Hacked – "100 hours of rebellious creativity" within la Rinascente, in central Milan. The weeklong program included lectures, workshops and performances which took place in the middle of a high-end retail store.  At the time of our visit there was a competition between man and machine to make a model of the Duomo.
A second Maker finding was at Cascina Cuccagna, an 18th century farmstead in southern Milan which has been recently restored for public use.  During design week the site hosted a Maker Lab workshop and a Public Design Festival planning seminar.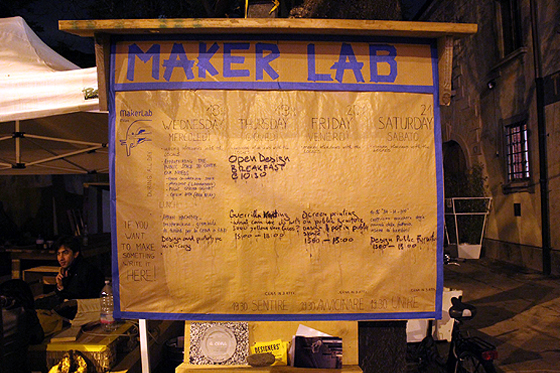 At the core of Cascina Cuccagna is Un Posto A Milano, a restaurant and bar which is a site for food culture experimentation while also preserving agricultural heritage.  During design week guests were invited to dine at a number of tables which played with dining table conventions.  Dinning sets included a laptop tabletop, screened enclosure with holes for hands and face, and conjoined rocking chairs.