Situ Studio Selected as Winner of 2013 Times Square Valentine Heart Design
Situ Studio is the winner of this year's annual Times Square Valentine Heart Design, a collaboration between Times Square Arts, the public art program of the Times Square Alliance, and the Design Trust for Public Space.
Heartwalk will be unveiled on Tuesday, February 12, 2013, and remain on view until March 8, 2013.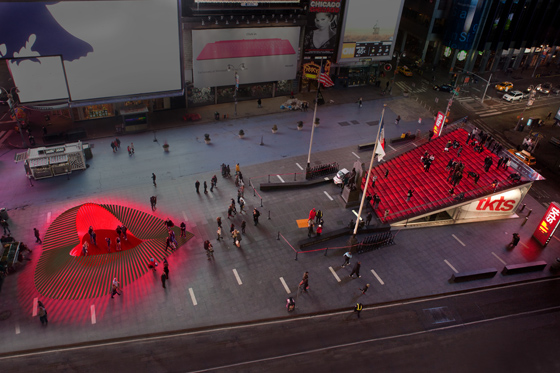 Aerial rendering of Heartwalk in Duffy Square.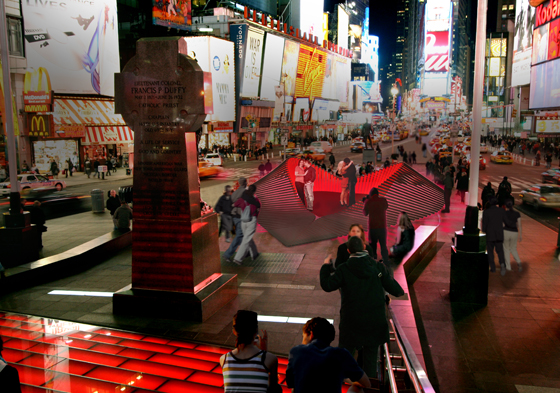 Rendering looking south from the TKTS pavilion.
Whether it was the radically reconfigured landscapes, the compromised infrastructural networks that tie us all together or the temporary solutions that emerged in the days and weeks that followed, Sandy confronted all New Yorker's with a transformation of the familiar.  This installation takes inspiration from the collective experience of this event and the love that binds the City's citizens together on this Valentine's Day.  Using wooden planks salvaged from the boardwalks of both New York and New Jersey, the installation begins as two ribbons which fluidly lift from the ground to form a heart shaped enclosure in the middle of Duffy Square.  The slatted construction, illuminated from within, provides varied views of the interior as the visitors move around perimeter of the installation.  At the base of the heart, a flattened area allows visitors to enter the installation itself – alone together for a moment at the center of the world's greatest city.