Repurposing
Over the past week we've collected close to 500 salvaged boardwalk boards from four locations (Atlantic City, Sea Girt, Long Beach, Rockaway) along the NY/NJ coasts that were hit by Hurricane Sandy for our Times Square installation, Heartwalk.  Boards are a mix of exotic Ipe, treated Pine and Cedar, and composite decking.  In some locations we've picked boards out of piles of debris.  At other locations we were given permission to unscrew boards from sections of boardwalk that were deemed unsafe and would need to be rebuilt.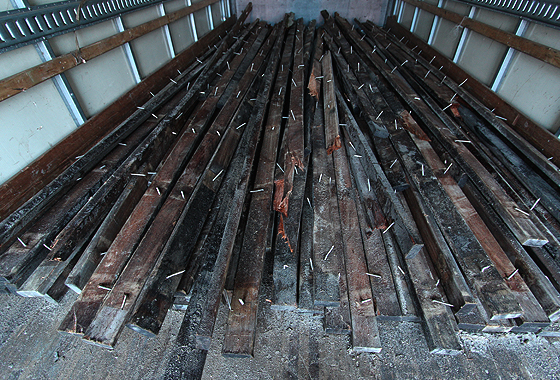 Once back in our fabrication shop, repurposing begins by removing nails and screws and brushing sand and salt off of the boards.  Splintered sections are cut away and the remaining clean portions are stacked and dried.  A number of the Ipe boards that will be used on the interior of the heart are planed on one side to expose the natural dense reddish grain that is masked by the weathered gray patina.
Simultaneously, we have been developing the design through mockups and lighting studies.  Over the next week, we'll be fully fabricating Heartwalk at a staging location adjacent to our fabrication shop prior to installing in Times Square on February 10th.