In a follow up to the Left-to-Die Boat report that Situ worked on last year with collaborators Charles Heller and Lorenzo Pezzani (part of Forensic Architecture – a project funded by the European Research Council) that focused on the reconstruction of the events that lead to the death of 63 migrants in March/April 2011, a press conference was held today to present new evidence and announce a new legal cases that are finally being brought to court in Spain and France. After the Paris Prosecutor's Office ignored initial complaints in April of 2012, two survivors filed the case as civil parties, forcing open a judicial investigation as to why French and Spanish military ships criminally neglected a vessel in distress, ultimately resulting in the unnecessary deaths of 63 people at sea.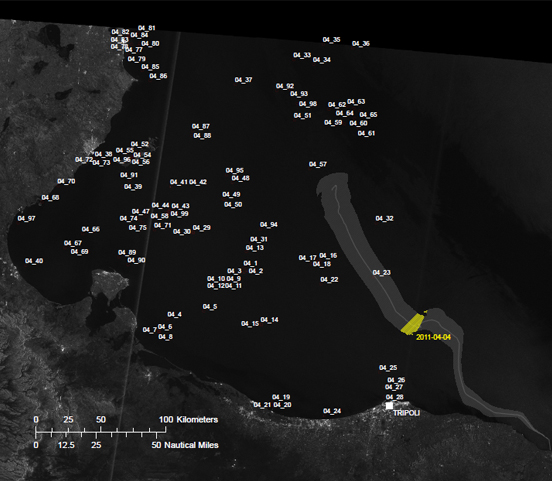 The above image shows new Synthetic Aperture Radar (SAR) data describing ships over 50 meters in length on the morning of April 4th 2011. Highlighted area indicates migrant vessel's range of locations on that day. Below is the addendum itself that was released at today's press conference in Paris held by International Federation of Human Rights (FIDH).
Experts Report Life to Die Boat
At the press conference, Lorenzo Pezzani describes the inclusion of the new vessel detection data that is has been incorporated to strengthen the report's spatio-temporal reconstruction of the events analyzed in the report. His description can be viewed at 30:00 of the below video.
The addition of new SAR (synthetic aperture radar) data from the morning of April 4th 2011, the crucial time when a military ship is thought to have crossed within 10 meters the migrant vessel (see image at top of page), has been instrumental in gaining further insight into the provenience of the military ship the survivors recall encountering. While this new data narrows down the possibilites, the question remains – which ships were present in the area, informed of the vessel's distress and failed to respond? Read FIDH's most recent coverage of the report here.