Building Food Trucks for Social Justice
That is the ambition of Drive Change, a newly initiated New York City based food truck business, and an alternative education program, dedicated to teaching transferable skills to youth re-entering society from the criminal justice system.
Situ Studio is excited to have partnered up with this organisation to build a series of food trucks, the first one, hitting the streets in early Fall of 2013.
Drive Change Launch Film. Learn more about the fundraising campaign here.
A Side of Social Justice
Jordyn Lexton, the founder of Drive Change spent three years teaching young people at East River Academy, a public school serving the youth incarcerated at Riker Island. Quickly, she noticed how frequently that population of people would recycle through the system, recycle back into the classroom, back into the jail. That left Jordyn asking why is this happening at such a high rate?
One of the more apparent and frustrating reasons is the fact that New York State is one of only two states (North Carolina is the other) that automatically arrests 16-year-olds as adults.
Once released, these young adults are 85 percent more likely to commit violent crimes than young criminals who were sent to rehabilitative programs.
Because they are treated like adults by the criminal justice system these young adults leave with open felonies on their records making it extremely hard, if not impossible to find a job or go back to school, social services are limited, while Jordyn notes that: "kids are also internalizing that sense of being a criminal. So the doors of opportunities are just shut on their faces when they leave."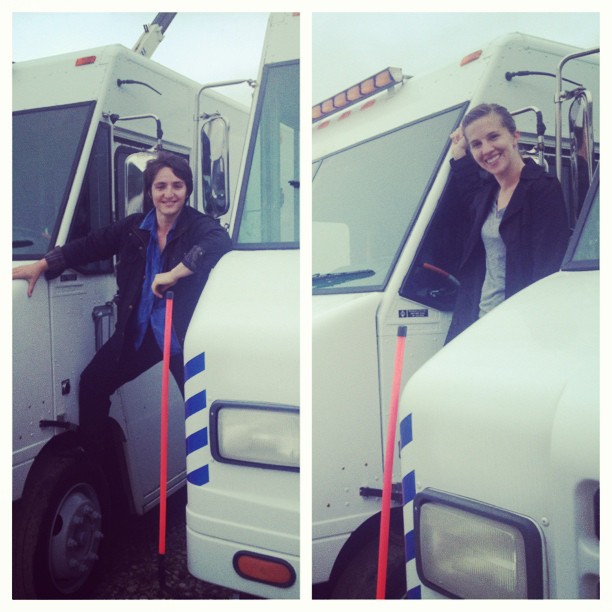 Founder, Jordyn Lexton and Annie Bickerton, Director of Development go foodtruck shopping on Long Island.
Drive Change wants to build a foodtruck that not only caters to a New York gourmet foodie's high standards, but also motivates its employers to take ownership and pride in their work space. Drive change and Situ Studio wants to construct a foodtruck where both the tactile experiences of food and touch are emphasized.
Visually, the foodtruck will embrace the dynamic between industrial and organic materials, and even food ingredients. NY State maple syrup is a key ingredient in the menu, while an re-purposed Con-Ed truck is the skeleton of the truck.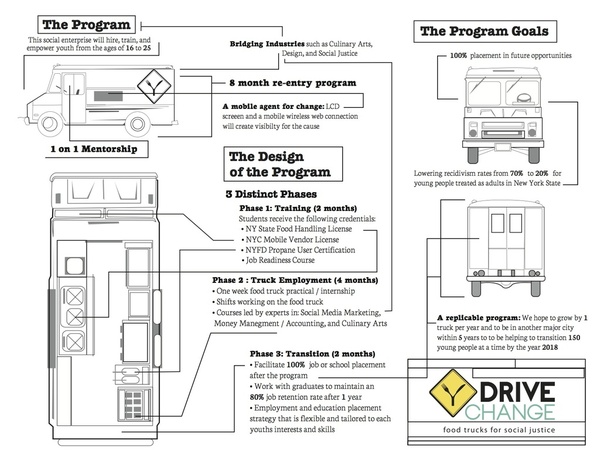 To help Drive Change realize their first goal, go here to donate. There's 16 days left!
We will be documenting Drive Change and Situ Studio's food truck's journey from concept, model, to finished truck.
Follow Situ Studio on Facebook and Twitter #justtrucks for updates.