Making is Design: Makers, Shakers and Innovators
As part of the research for Design Lab we want to get our hands dirty and learn from the wondrous experimental community of makers and tinkers in Brooklyn and beyond.
We've stumbled upon Brooklyn Brainery upon a local crowd-sourced community education space, that hosts classes on all topics imaginable from physics, HTML, toy hacking, to shorthand – (you'll learn how to write fast and indecipherable to most eyes, very convenient for private subway scribbles.)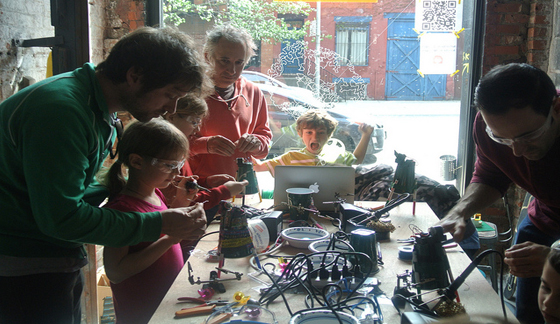 One of latest additions of educators is NYC Makery. This team of innovation makers has previously hosted a series of pop-up workshops where youth and adult were invited to tinker, experiment and design through making. Hands-on learning and experimentation is at the heart of these workshops, and we're amazed to see how a chance gift of balloons turned one of the kids into a camera-hacker that created an awesome aerial photography device.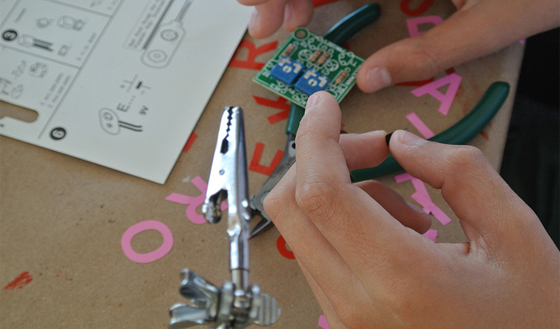 The idea of asking youth "what will you make today" rather than "today we'll learn about" is the driving motivator for the spirit of NYC Makery and Design Lab alike. The re-design of The New York Hall of Science's new exhibition space is divided into five separate workshop-spaces were visitors are encouraged to participate and design objects through hands-on making. Our belief that "making is design" bleeds into our own process of designing Design Lab from concept to finished space. We make sure to switch out our office chairs with tools to build features and objects that will be part of the end result.
To learn more about prototyping and our fabrication to design process click here, and to explore Design Lab in its design phase please visit our project page for Design Lab.
All Photographs courtesy of Makery NYC
#designlab #makingisdesign