Environment Design: The Architectural League of New York's Beaux Arts Ball
On September 28th, The Architectural League will hosts its annual Beaux Arts Ball in the 69th Regiment Armory on Lexington Avenue and 25th Street. The Beaux Arts Ball takes inspiration from and responds to the building where it is held, and the remarkable interior and enduring legacy of the 1913 art exhibition the Armory once housed is no exception.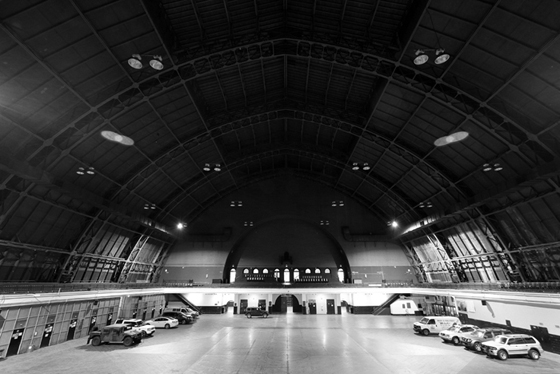 69th Regiment Armory space as it appears today
We are designing and building an environment that will transform the space for a single evening alongside a responsive lighting design by Renfro Design Group, a performance installation of large-scale puppets by Processional Arts Workshop, a music and sound installation by Nathan Halpern (with Mary Lattimore and Chris Ruggiero) and a DJ set by Detroit-native Jon Santos.
To occupy this immense 28,0000 square foot space we have designed an array of tensegrity structures that will rise above and dip below and existing cable grid datum 20 feet overhead.
Study-model made out of string and paper. Notice how the toy soldiers are the perfect scale ratio.
This faceted, diaphanous landscape will become transformed to a dynamic site where a horde of colossal puppets (designed, build and activated by Processional Arts Workshop) will roam throughout the night. To see a video of the puppets swaying through the streets of SoHo click here
The massive, yet – lightweight, structures that frame various programs of the Ball are designed with structural efficiency and made of simple modular components typically used in the construction industry: the fire-retardant polyethylene sheets made from recycled resins typically used as a vapor barrier in concrete curing, while the compression members are comprised of off-the-shelf, unaltered, aluminum electrical conduit.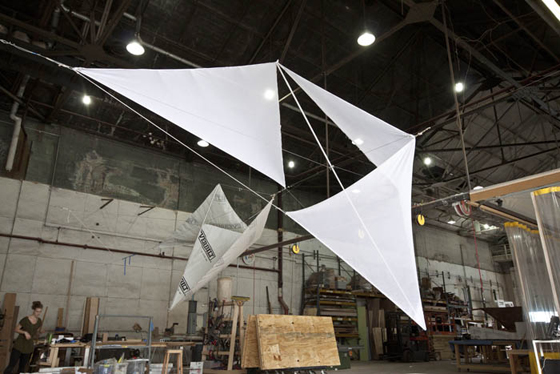 Full-scale mock up of structural design about Situ Fabrication in the Brooklyn Navy Yard
Given the temporary nature of the environment, Situ is mindful of the source and life of the material it is employing; after the event, polyethylene fabric and nylon rope will be re-purposed for theater productions while the aluminum conduit will be returned to its supplier.
Beaux Arts Ball 2013 – Design Preview from Situ Studio on Vimeo.
The project will be immersive, combining spatial interventions, live video feed, projections and performance into a single ephemeral environment that will disappear almost as soon as it materializes.