Uneven Growth: Workshop at MoMA PS1
This past week Situ Studio and Situ Research participated in the launch of the MoMA exhibition "Uneven Growth: Tactical Urbanisms for Expanding Megacities." This past Friday and Saturday marked the first in a series of workshops that will culminate in a publication and an exhibition at MoMA in November 2014. The six teams chosen to participate met for the first time at MoMA PS1 where teams began to collaborate and think through the questions prompted by the exhibition brief. Situ Studio has been pared to work with Cohabitation Strategies on New York City for this exhibtion. The other teams will be working in Hong Kong, Istanbul, Lagos, Mumbai, and Rio de Janeiro.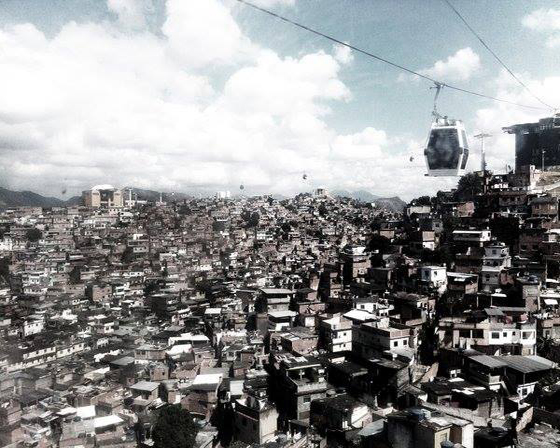 Gondola transportation system in the favela community "Morro do Alemao" in Rio de Janeiro
Photo Pedro Rivera, RUA Arquitetos
The workshop on Friday began with presentations by a panel of advisors on the topic of the subjects of uneven growth and tactical urbanism including Sasia Sassen, Nader Tehrani, Michael Sorkin, Teddy Cruz, Alfredo Brillembourg, and Mimi Zeiger.  The rest of the day teams worked on compiling presentations of past work as individual firms as well as initial impressions of the prompt and the city in which the work will be done.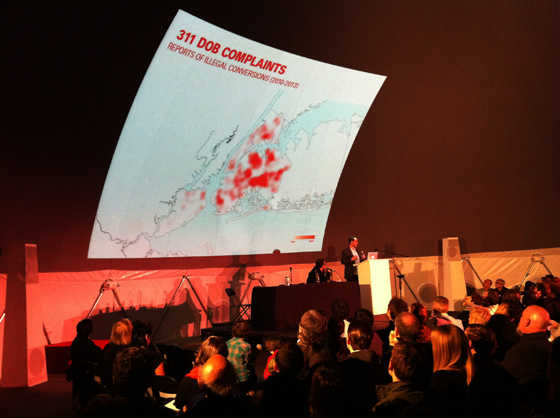 Situ partner, Brad Samuels, presents a map created from 311 complaints to the Department of Buildings reporting  illegal conversions as part of the research on informal housing in New York City.
While the workshop on Friday was closed to the public, the presentations on Saturday were opened up to the public.  Beginning with an introduction by curator Pedro Gadanho, each team presented their past-work and preliminary research.  A panel of respondents including Neil Brenner, Ed Keller, Quilian Riano, and others, reflected on the early proposals.
A second workshop is set for Shenzhen in mid-December. To learn more about this project please visit this MoMA's website here