Situ Research: Division and Website Launch
Last week we launched Situ Research, a site dedicated to interdisciplinary design work that addresses urgent contemporary spatial issues. Over the past few years we have collaborated with human rights organizations, scientists, city planners and lawyers on vide range of projects, all collected on our new website
Situ Research associates McKenna Cole and Charles-Antoine Perrault share a few words about their investigations on two current research projects.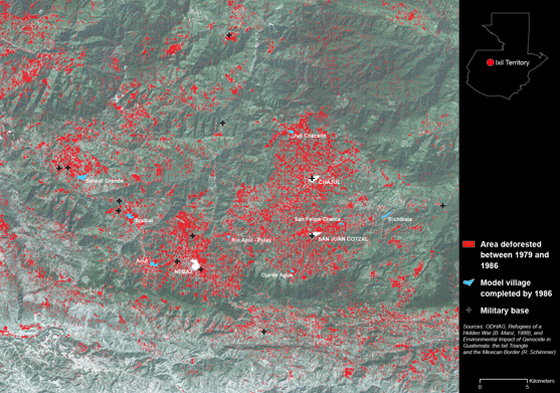 Deforestation patterns, militarization, and urban development in the Ixil territory are strongly correlated. This map illustrates how Guatemalan government's "Model Village Program" participated in the destruction of Ixil people's natural environment.
Charles is working on the investigation of a genocide case in Guatemala – A project undertaken in collaboration with Forensic Architecture and Paulo Tavares.  From March 1982 to August 1983, General Efraín Ríos Montt ruled the country with an iron fist during one of the bloodiest periods of its long civil war. Montt is now facing accusations of crime against humanity and genocide against Mayan groups before the National Court of Guatemala. Charles is producing a set of time-based maps and visualizations representing Rios Montt government's intent to destroy a particular ethnic group. "Leveraging a broad range of evidentiary material (military logs, exhumation data, historical pictures, satellite images…), we reveal intersections between military operations, indiscriminate violence against civilian populations, systematic destruction and relocation of indigenous communities, and transformations in the urban and natural environment." This work is intended to enter as evidence in Ríos Montt's trial and will be integrated in a publicly accessible online geospatial platform.
Explore more Situ Research projects on Human Rights issues here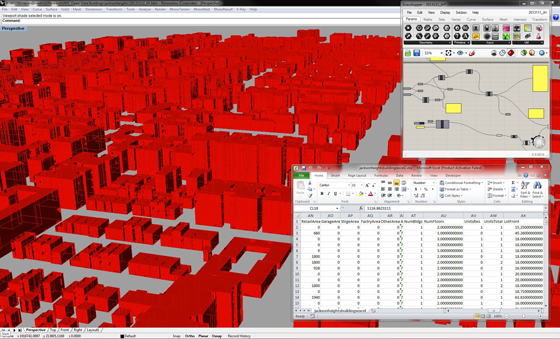 Image of PLUTO Dataset joined with building footprints translated into a 3d model of the Jackson Heights section of Queens.
McKenna is engaged in the development of the research for Uneven Growth: Tactical Urbanisms for Expanding Megacities a fourteen-month long workshop series culminating in exhibition at MoMA in November 2014. Situ is collaborating on this project with Cohabitation Strategies. Mckenna explains: "We're reaching out to other practitioners, organizations and non-profits in the process of trying to formulate a clear understanding of the unevenness in New York City as it is physically manifested in disparate housing conditions, access to infrastructure, and policies at large. We're analyzing and manipulating publicly available datasets to help us understand housing conditions on both a city-wide and neighborhood scale. Mapping and modeling are being used simultaneously in order to visualize the spatial implications of the data being used."
Learn more about our participation in the first workshop at MoMA PS1 and keep an eye on the blog for updates as we visit Shenzhen & Hong Kong Bi-City Biennale of Urbanism\Architecture in mid-December.
Explore past blog posts on Situ Research projects here