Exhibition Design – Folk Couture: Fashion and Folk Art
For the past few months we have been experimenting with new materials for our exhibition design with the American Folk Art Museum. The exhibition, Folk Couture: Fashion and Folk Art, showcases original ensembles from thirteen designers inspired by objects from the museum's permanent collection. The results will be displayed alongside the original folk art objects; exploring the boundless relationship between inspiration and creation.
We sought to find a flexible material to create a system that could be customized to respond to different objects while providing  tactile and visual continuity to the show. Inspired by the draping of a dress form, we chose to work with concrete impregnated fabric to create a series of custom pedestals specifically crafted for the garment or object it holds.
The process of constructing the pedestals involved building a series of simple armatures from which the concrete canvas was suspended upside-down and saturated with water.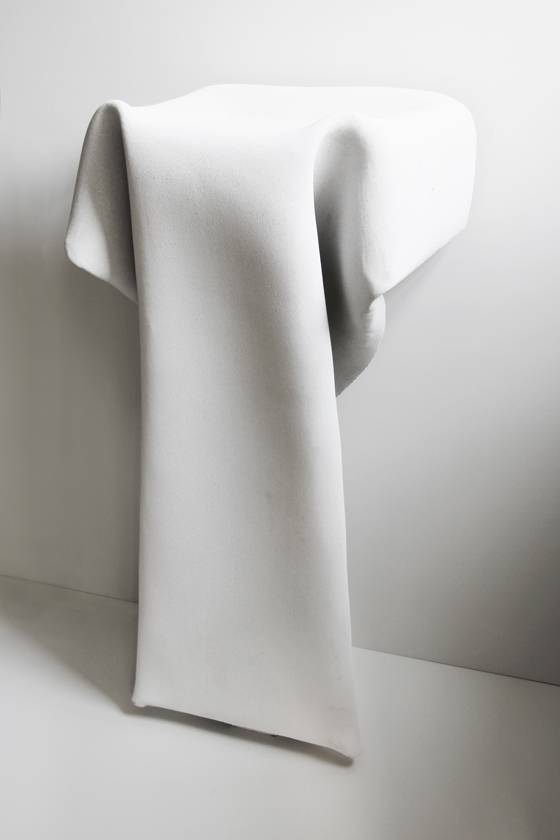 Once cured, the result is a series of light-weight, structurally sufficient, modified-catenary forms that appear to float and billow upwards, grounded only by the weight of the objects they support.
Folk Couture: Fashion and Folk Art will be on display from January 21st- April 23rd, 2014 at the American Folk Art Museum.
The exhibition is free and open to the public.