Design Lab: Studio Install
While the kids visiting NYSCI have been building dowel structures down in the Sandbox, we've been busy installing the tessellated panels and cladding of the next Design Lab workshop – the Studio. The Studio workshop is primarily used for small-scale, hands-on activities, such as DIY electronics and the exploration of urban issues through model-making. One prominent design feature is the "Aggregator" – a space where participants can display and test their creations collectively, learning from one another and building each other's ideas.
Design Lab at The New York Hall of Science is a space for tinkering and creative problem-solving for teachers, students, and families. By using simple tools and everyday materials, Design Lab projects invite kids to wrestle with STEM topics through personally motivating problems and to come up with their own creative solutions.
In Spring 2014, Design Lab will offer four different hands-on design sessions at the museum that tackle challenges ranging from designing and erecting emergency structures to reusing excess plastic bags. The project "Happy City", for example, invites students to think about how light and movement could make their city a happier place, and to then apply their ideas by building a happy model city with LEDs and motors. This particular activity lets children examine and confront contemporary urban planning issues.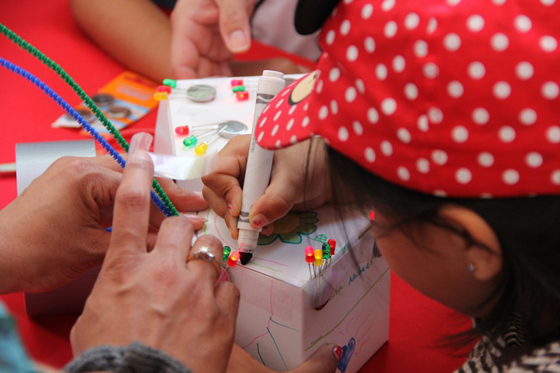 (photo courtesy of The New York Hall of Science)
To learn more about Design Lab and the four new workshop spaces, visit this page.
Structural engineering by Laufs Engineering Design (LED).