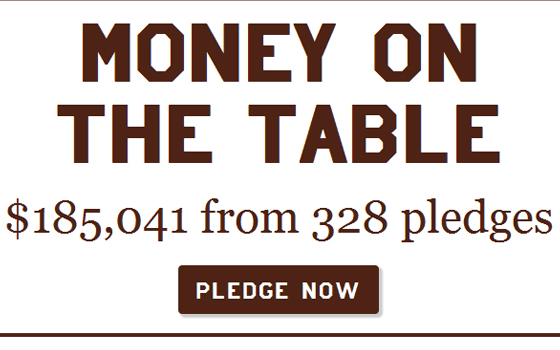 At the beginning of November it was announced that the Trustees of the The Cooper Union were exploring introducing tuition at the school for the first time in over 100 years. For the past two months an intense debate involving many stake holders has ensued regarding how to solve Cooper's financial predicament, and perhaps more importantly, how to protect the principles upon which the school was founded.
We feel that what is special about Cooper, its character, culture and education, depends entirely upon the school remaining tuition free for all admitted students. To charge tuition to any portion of the student body would completely undermine the education that Cooper provides, it would no longer truly be merit based.
Of the many ideas that have been proposed to address the deficit the school is facing, we would like to bring your attention to one that we feel is working particularly well. A website has been created that allows students, alumni, faculty and the general public to pledge a donation to The Cooper Union that is contingent upon the administration stating publicly and unequivocally that "Cooper Union's undergraduate schools of architecture, art and engineering will remain completely tuition free." While the money raised through this effort certainly will not be able to solve Cooper's financial situation on its own it will help and it will, most importantly, send a strong message to the administration that, despite the dire situation, the only way to support Cooper Union is to continue to honor and fight for the principles that make is such a special and unique place.
If you would like to join us in supporting Cooper in these difficult times please visit the freecooperunion site and show your support: http://freecooperunion.com/
Throughout its long history, and through multiple financial crises and recessions, the institution has managed to maintain its tuition free status. We believe that the ingenuity and intelligence that is so abundant at Cooper can be leveraged to find viable revenue streams other than tuition. We are hopeful that the Revenue Task Force established by the new President of Cooper Union, Jamshed Bharucha, will be able to do just this.
Thank you,
Situ Studio
Some links for additional information:
Why Cooper Union Matters
Alumni Declaration
Alumni Pioneer
Cooper Union Task Force
Free As Air and Water